Team DELVA – Plusoffice presenteren het ontwerp van de nieuwe toegangspoort tot het nationaal park de Hoge Kempen. Dit in samenwerking met Wageningen UR.
Toonaangevend toeristisch domein
Na het beëindigen van de activiteiten op de drie grote mijnsites in Genk is de stad en zijn regio zich gaan verbreden en versterken als toeristische bestemming, gericht op actieve ontdekkers en avonturiers. Waar mogelijk wordt naar interactie gezocht tussen de kenniseconomie en de specifieke context van natuur- en cultuurlandschappen. Stad Genk heeft de ambitie om het groengebied Kattevennen te ontwikkelen tot toonaangevend toeristisch domein, dat de uitvalsbasis vormt voor natuur en wetenschap gerelateerde recreatie. Het aanwezige Cosmodrome zal zich ontwikkelen van planetarium tot wetenschapscentrum op internationaal niveau.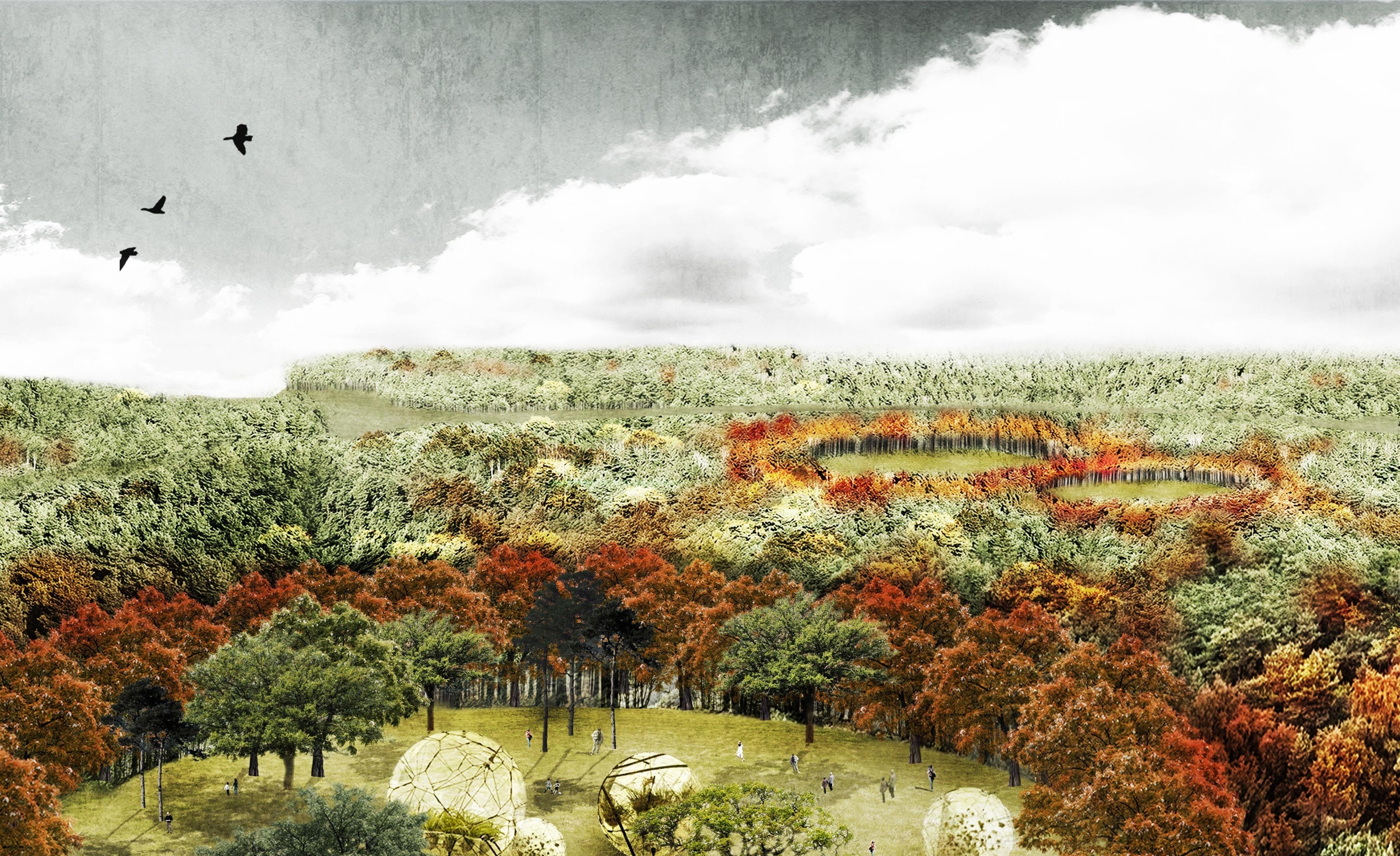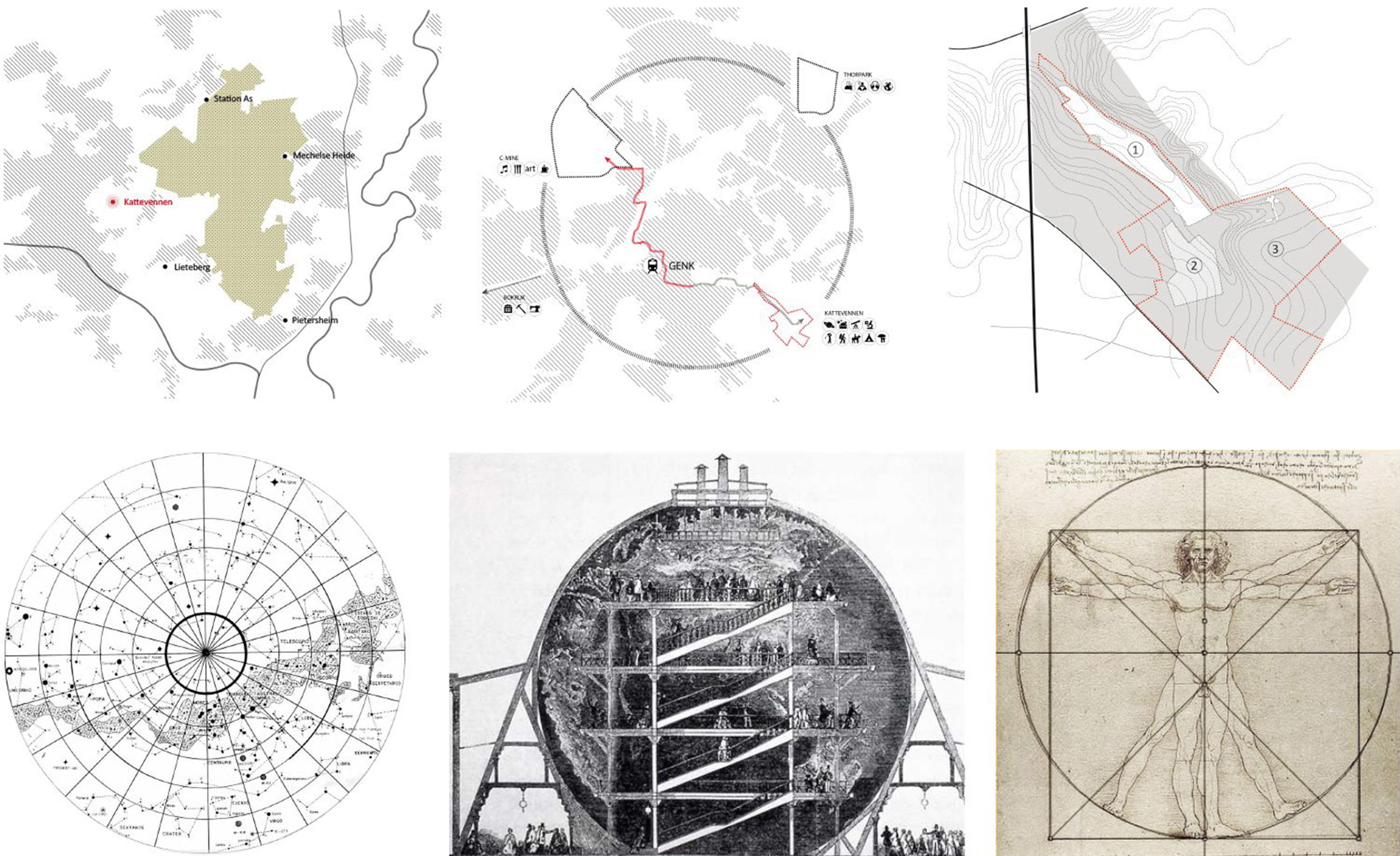 Mastervisie
De mastervisie is gericht op het ruimtelijk, ecologisch en programmatisch versterken van het gebied. Naast het versterken van de samenhang binnen het domein pleit het ook voor het verbinden van de stad Genk en Kattevennen middels een toeristische belevingsroute. Kattevennen als domein vormt daarmee een attractief scharnierpunt tussen Genk en het Nationale Park Hoge Kempen.
Vallei Kattevennen
De stad Genk kent een bijzondere geografische ligging. De op het plateau gegroeide stad kent vele zichtbare valleien. Valleien die gevrijwaard zijn gebleven van bebouwingen. Deze geografische historie is op veel plekken nog goed zichtbaar. Kattevennen is één van de gebieden waar deze kwaliteit zichtbaar is. Een kwaliteit die zich ruimtelijk manifesteert door hoogteverschillen, gedefinieerd door leegte in de vallei en bosgebieden op het plateau.
Sterke identiteit
Huidige recreatieve programma's zijn divers en zelfstandig van karakter. In de mastervisie wordt ingezet op het samenbrengen van deze programma's door het creëeren van een samenhangend domein. Nieuwe en bestaande programma's zullen ontwikkeld worden binnen het centrale thema "Cosmic Adventure" dat is gericht op natuur, wetenschap en educatie.
De cirkel is daarbij van oudsher een oervorm in de astronomie. Als basis voor de schematuur en systematiek is ze erg verbeeldend, helder en herkenbaar. Denk maar aan de vorm van de planeten, de omloop van de planeten rond de zon, het in kaart brengen van kosmische verschijnselen en het menselijk lichaam. De cirkel wordt in de mastervisie een basisthema in het vormgevingsconcept voor Kattevennen: Cosmic Adventure Park.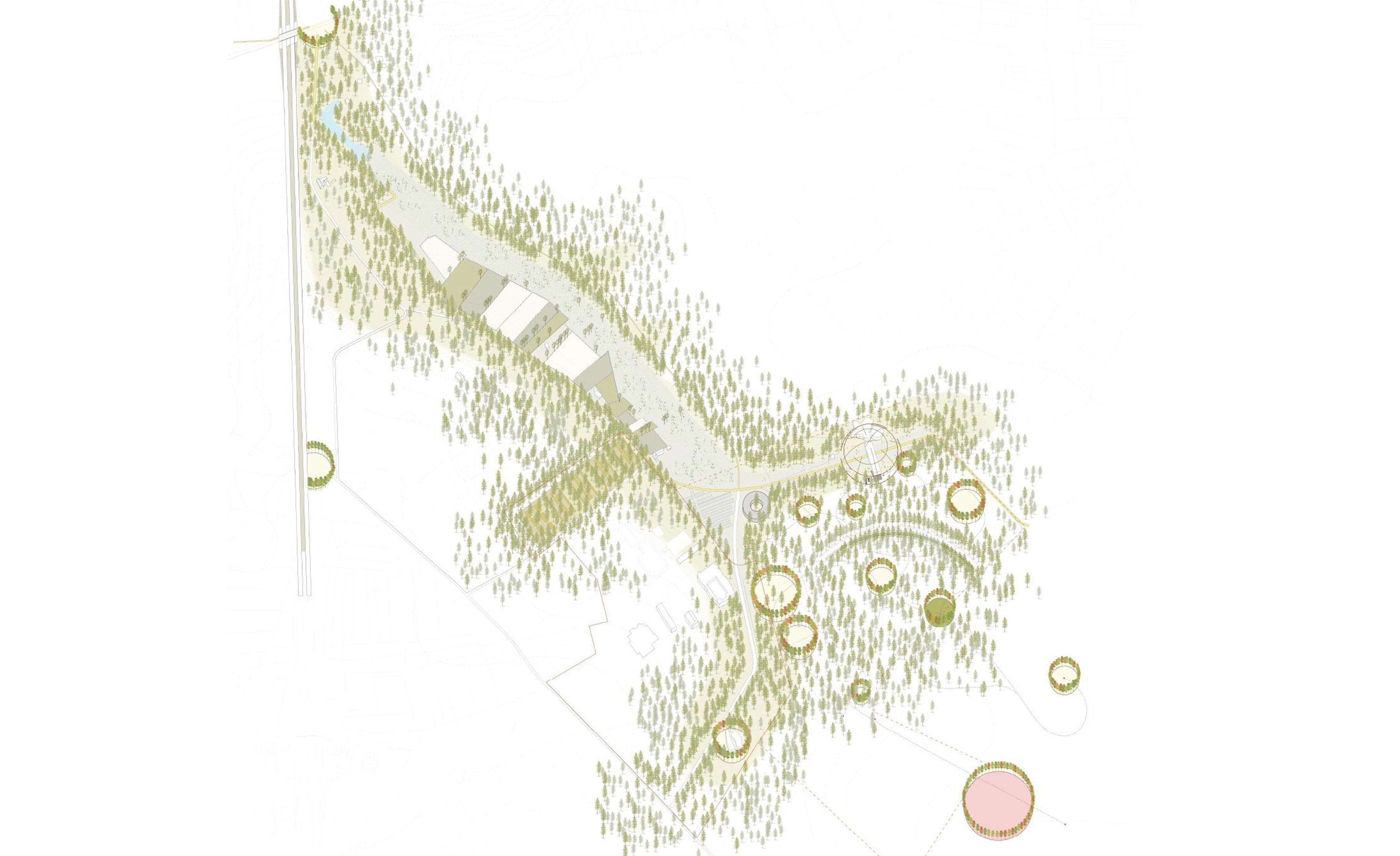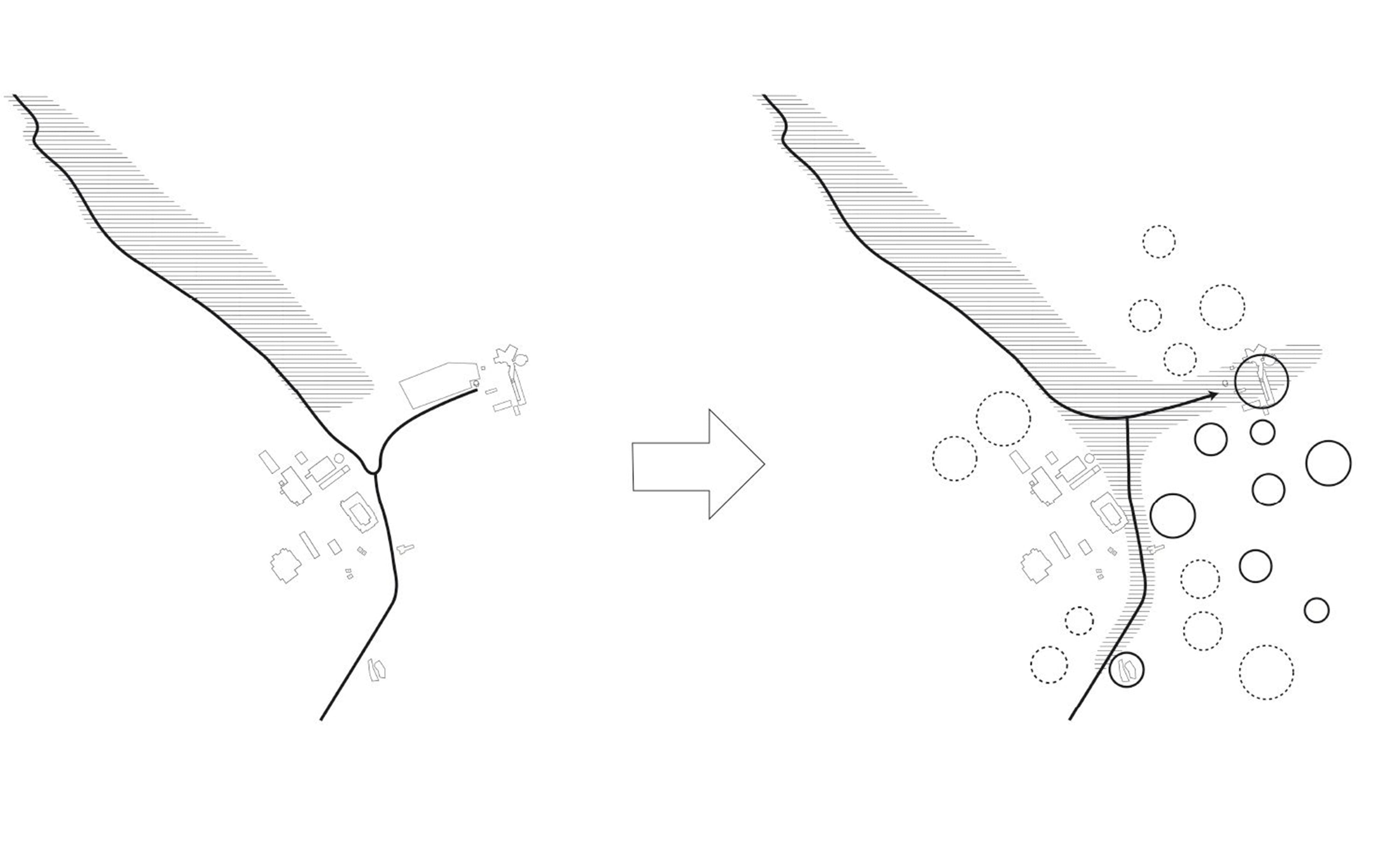 Nieuwe programma's
De vallei is een zeer sterke ruimtelijke entiteit. De kwaliteit ervan schuilt in de openheid in contrast met de aangrenzende bosgebieden. De huidige programma's organiseren zich rondom de vallei en zijn steilranden. In de mastervisie wordt de vallei verlengd zodat het de huidige topografie van het landschap (steilranden) wederom de begrenzing ervan gaat vormen. De visie is om de vallei zoveel mogelijk te vrijwaren van (nieuwe) recreatieve programma's. Deze krijgen een plek op het plateau in zogeheten boskamers.
Boskamers
Het bestaande mastbos wordt op ecologische wijze getransformeerd van hoofdzakelijk naaldbos naar een meer gemengd loofbos. In het bos ontstaan daarbij ruimtes in de vorm van cirkels, de boskamers. Het zijn ruimtes die ingezet worden voor recreatieve programma's zoals thematische wetenschap installaties behorende bij de Cosmodrome, natuur gerichte verblijfsrecreatie of avontuurlijke sportprogramma's.
Thematische installaties
Centraal in onze benadering staat de zoektocht naar de link tussen natuur, wetenschap en educatie. De Cosmodrome vormt een sterke verbinding tussen deze drie. Door middel van thematische buiteninstallaties zullen er verschillende buitenexposities ontstaan. De mastervisie geeft richting aan deze thematische installaties, passend binnen en kracht gevend aan het centrale thema. Ze tarten met zwaarte kracht, laten de grootse inpact zien van een zeer kleine meteoriet en geven de omlooptijden van de verschillende hemellichamen weer.  Zo worden thema's als energie, impact, zwaartekracht en relativiteit in tijd en afstand op verrassende manier beleefbaar gemaakt.
Cosmodrome Science Center
Het belang van laagdrempelige wetenschapscommunicatie is erg toegenomen en de wetenschappelijke instellingen, waaronder planetaria, dienen deze visie mee vorm te geven in hun eigen beleid en publiekswerking. Vandaar de recente evolutie naar een verbreding van de huidige werking van planetaria naar wetenschapscentra of Science Centers met een bredere focus dan enkel de klassieke benadering van sterrenkunde. Het Cosmodrome Science Center in Kattevennen wil zich aansluiten bij deze tendensen en zich op internationaal niveau positioneren als state-of-the art Science Center met een ruim aanbod aan activiteiten gericht op een breed publiek. De mastervisie geeft een architectonische uitwerking aan deze visie.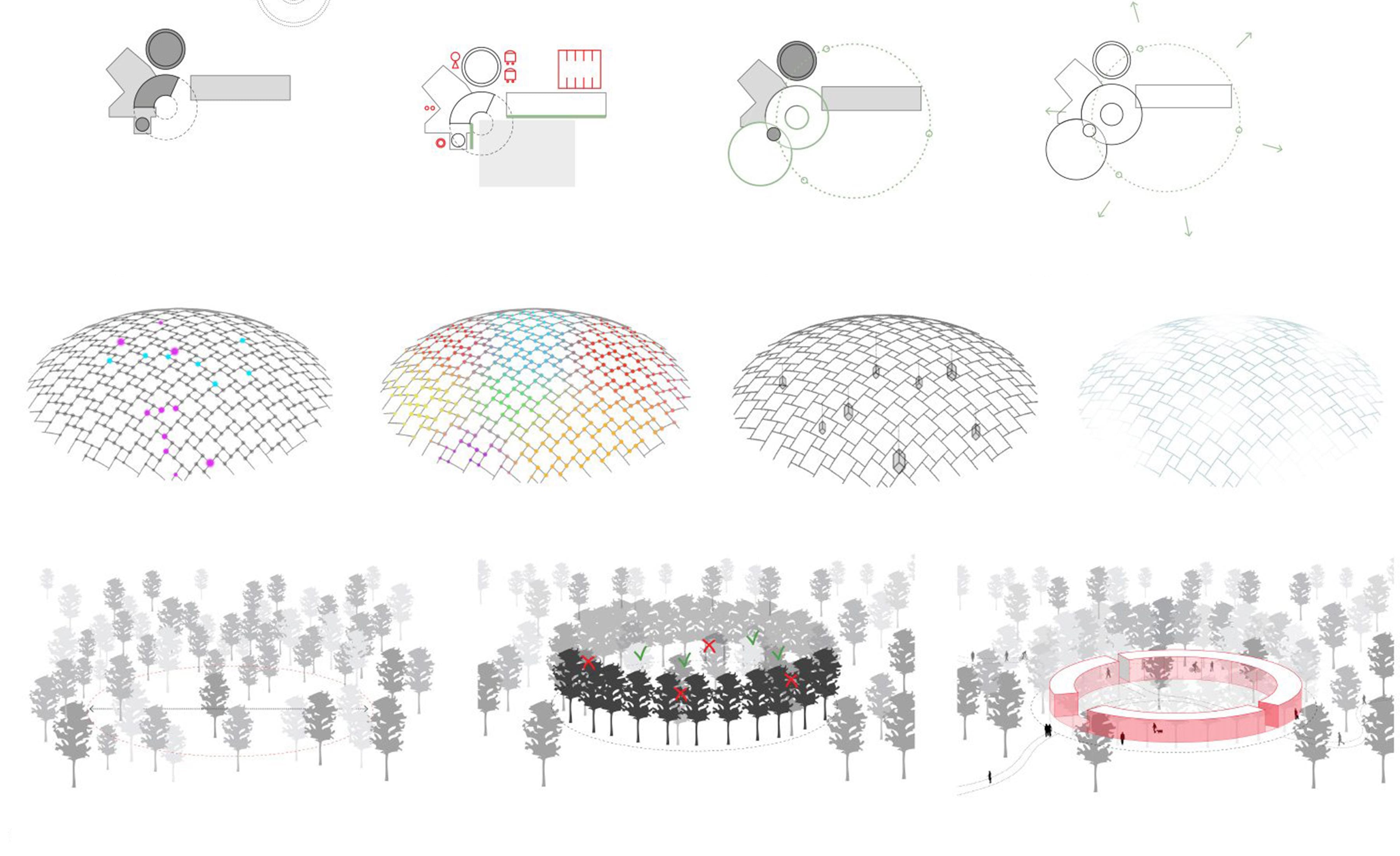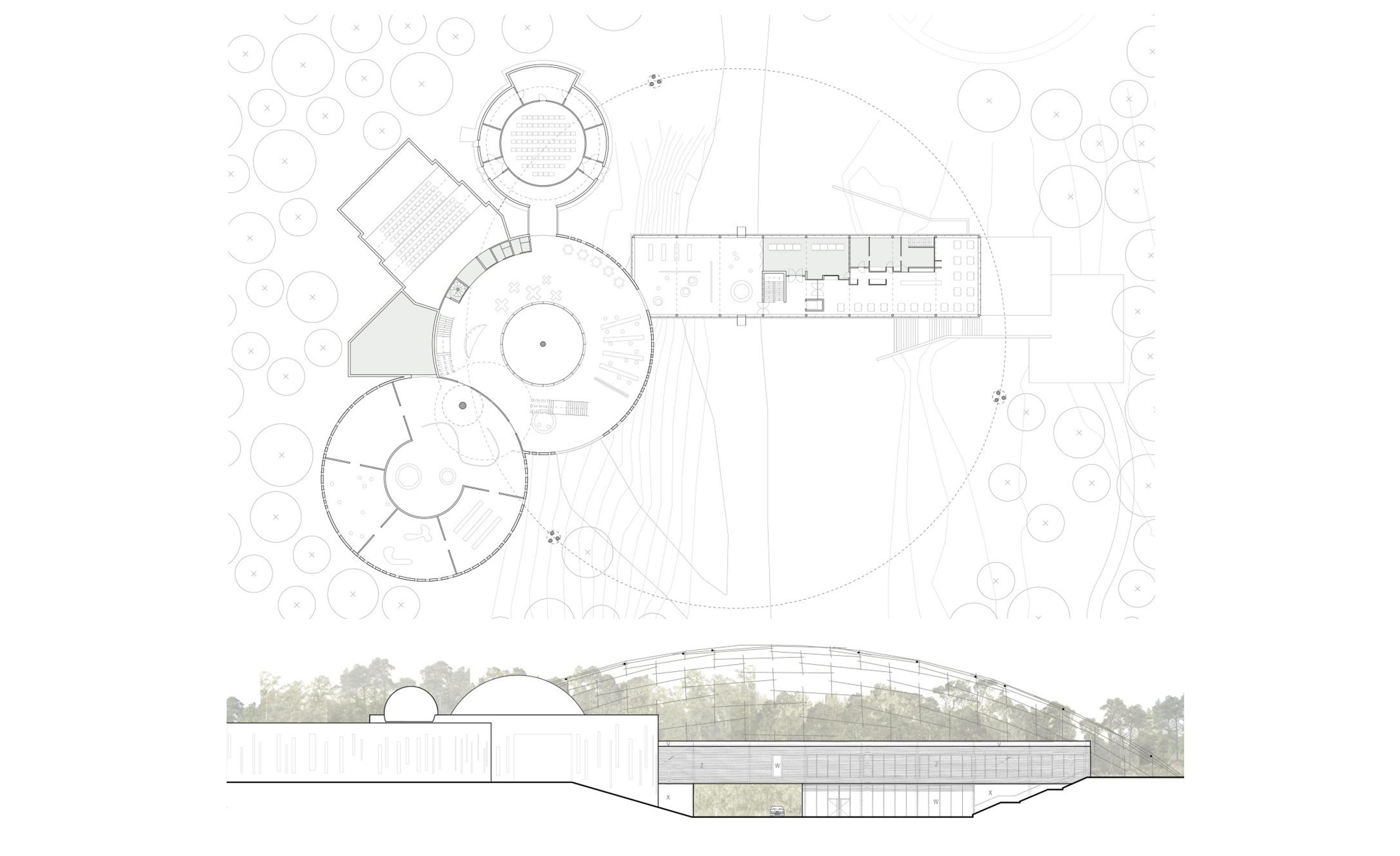 CosmoDOME
Het Low-Res Dome dient in de eerste plaats als eikpunt in het gebied. Het is een herkenbare structuur die een grote attractieve waarde heeft maar ook een beeldwaarde. Het wordt het symbool voor Kattevennen en eist zijn plaats op in de skyline van Genk. Het wordt gerealiseerd met een intelligente constructie die zeer licht is en weinig materiaal nodig heeft om die overspanning te maken. De is van Buckminster Fuller die grootse ideëen wist te vertalen in lichte constructies die eenvoudig te bouwen zijn. Als sculptuur tarten ze de verbeelding over zwaartekracht.  Poëtisch en toch educatief. Dat is exact het soort installaties dat past bij het outdoor Cosmo Science Center.
Verschillende functies
De cosmodome kan ingezet worden als drager van enkele extra elementen. Het voorzien van led-technologie, maakt van de dome een buitenplanetarium in lage resolutie. Het doel is een poëtische ervaring die zowel sterrebeelden als afbeeldingen toont. Dit kan een kunstproject zijn of een interactieve programmatie die reageert op de bewegingen van bezoekers eronder. Zo krijgt de dome ook 's avonds en 's nachts een bijzondere uitstraling.
Locatie

Genk

Status

Studie

Opdrachtgever

Stad Genk

Samen met

Plusoffice Architects