The Pulse is een hoogwaardig, circulair gebouw, een plek waar mensen prettig en comfortabel wonen, leren, werken, en recreëren. The Pulse is volledig zelfvoorzienend en is een icoon voor leefbaarheid en duurzaamheid. De gemeente Amsterdam heeft hoge eisen gesteld aan de kwaliteit van de woningen, circulariteit, duurzaamheid, stadsnatuur, mobiliteit en openbare voorzieningen. Het ambitieuze concept voldoet aan deze eisen. Het ontwerp, inclusief het stadsbosje, wordt verder uitgewerkt en de oplevering van het complex is gepland in 2023.
Gebruik, biodiversiteit en water vormen de drie hoofdthema's voor het landschappelijk ontwerp. Deze thema's vormen een samenhangend geheel en leggen bovendien een verbinding met het economische model van The Pulse. Groen als onlosmakelijk onderdeel binnen het gehele concept.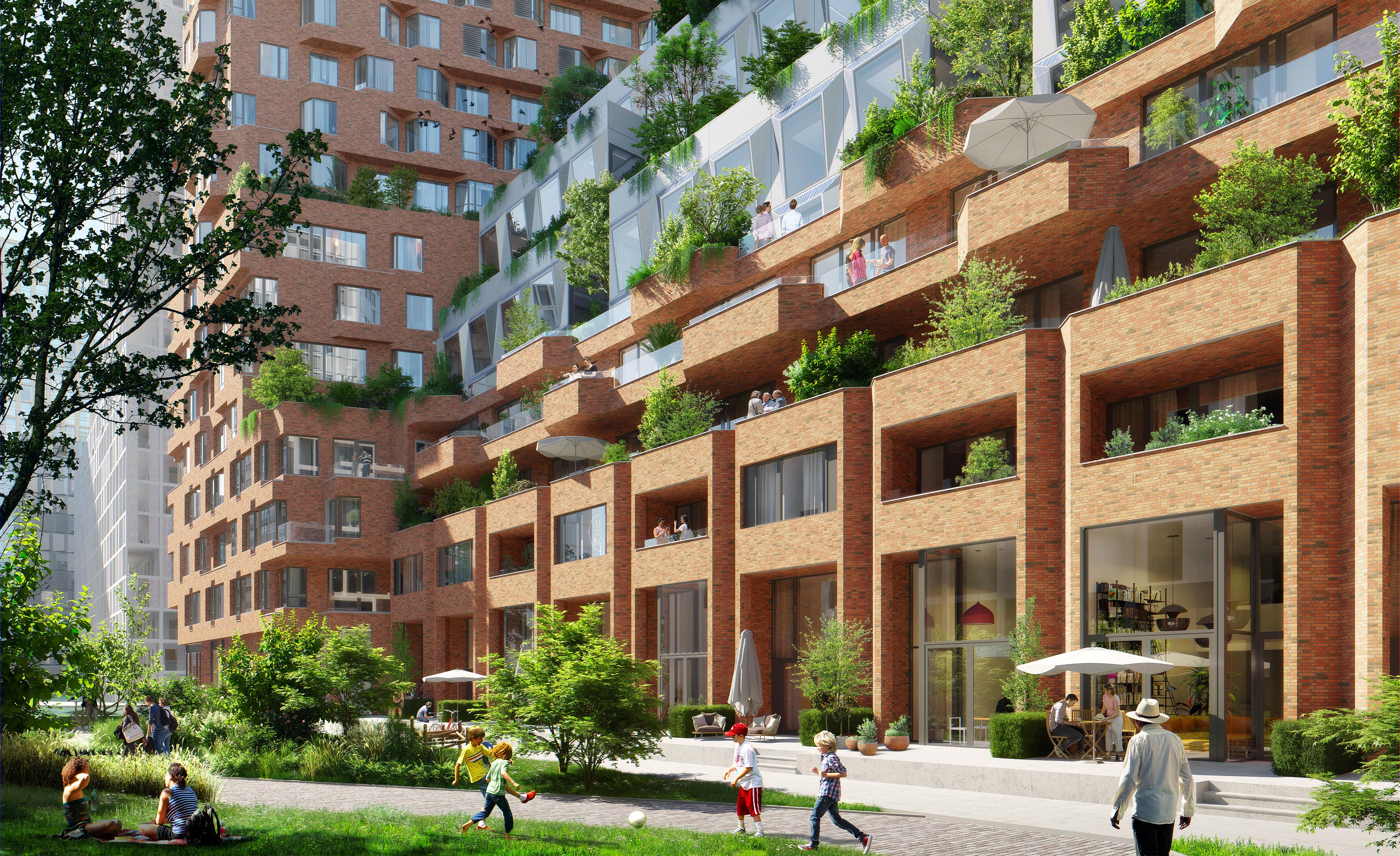 The Pulse verwelkomt het eerste stadsbosje op hoogte in Amsterdam.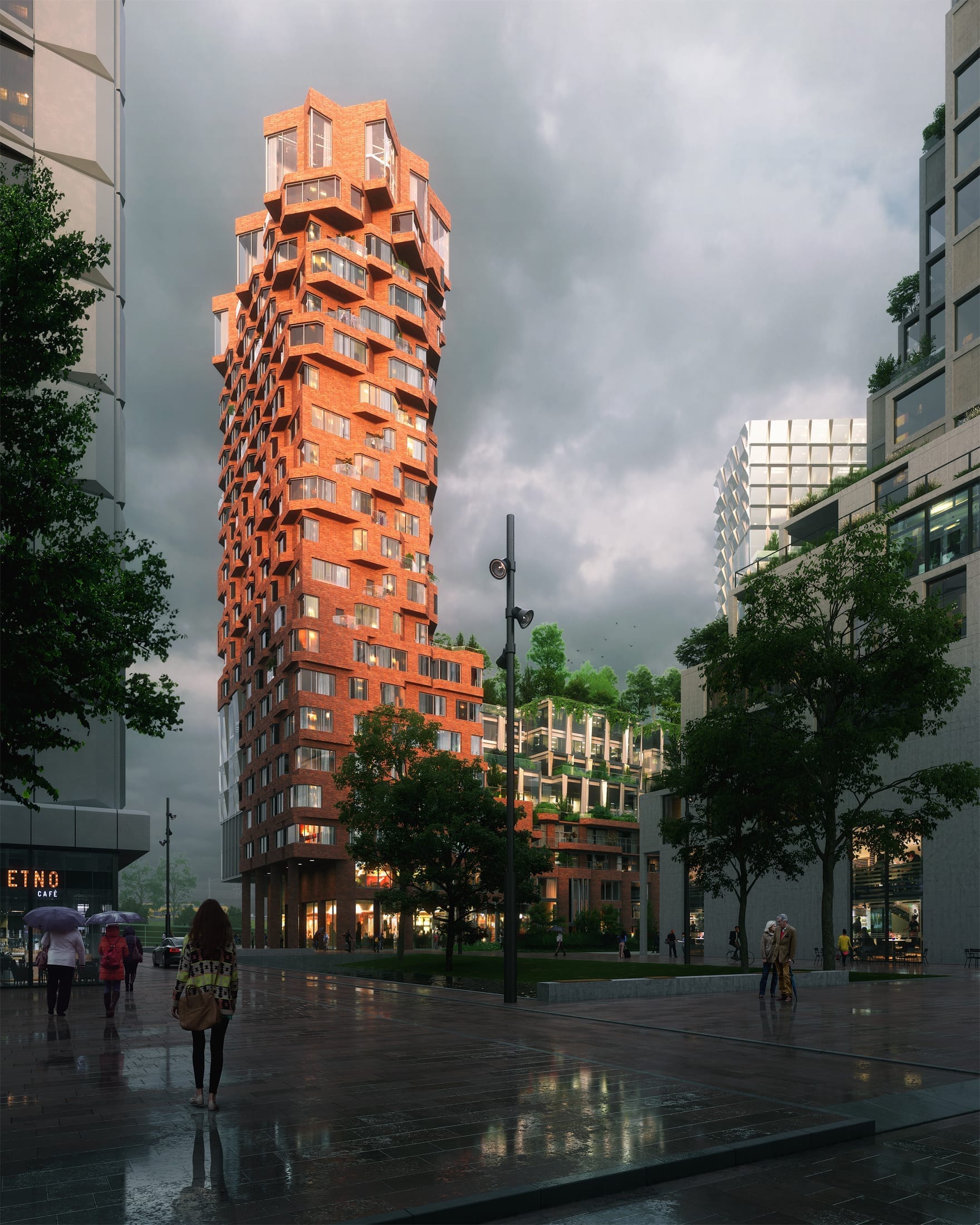 Het groenconcept integreert ecologische, groene structuren zo in het ontwerp dat dit deels uitnodigt tot gebruik en recreatie door de mens terwijl ander groen juist vooral toegankelijk is voor vogels en insecten. Hoe hoger je binnen The Pulse komt hoe meer het accent verschuift van mens naar plant en dier.
Het groenplein, als uitloper van het nieuwe stationsplein, is een plek waar ontmoeten centraal staat tussen internationale kunsttentoonstellingen. Het intieme park binnen het blok fungeert dan weer als een publieke groene stadskamer waar plek is voor sport en spel.
Tussen de hoge torens nestelt zich op 35 meter hoogte het spectaculaire groen. Een plek waar de mens te gast is in een stuk natuur. Het creëert het altijd blijvende stuk groen binnen het ensemble. Het groen zorgt voor het reduceren van hitte, is water adaptief en creëert qua schaal echt een bijdrage aan de biodiversiteit binnen dit hoog stedelijk gebied.
The Pulse voegt een altijd blijvende bijdrage aan de groenstructuur van Amsterdam.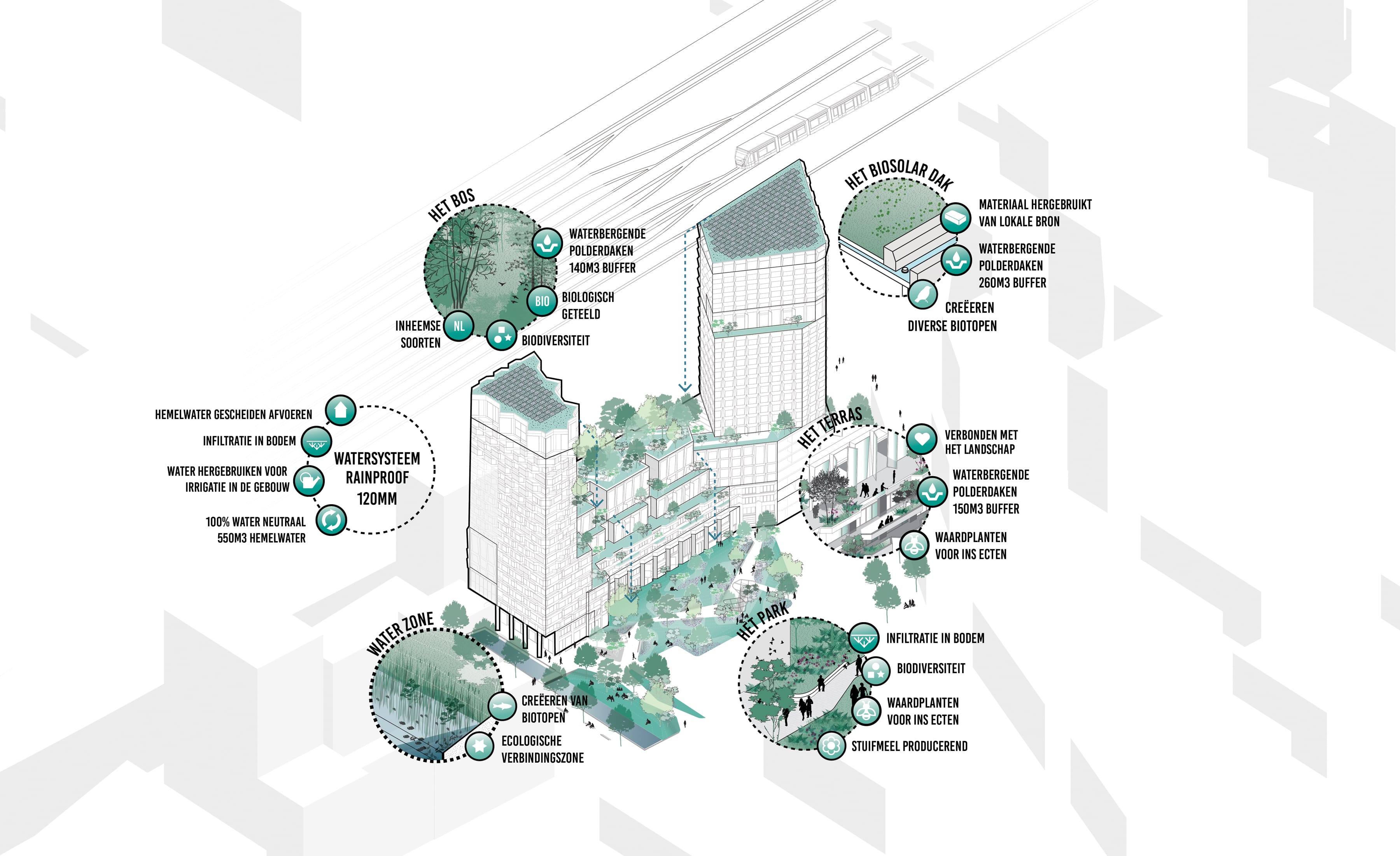 The Pulse voegt, naast een levendige impuls, een altijd blijvende bijdrage aan de groenstructuur van Amsterdam. Het groen op hoogte tussen de twee torens vormt een permanente ecologische stapsteen tussen de twee grootse groenpolen van Amsterdam. Namelijk de Amstelscheg en het Amsterdamse Bos.  De ecologische waarde die met The Pulse aan het gebied wordt toegevoegd versterkt hiermee het groenbeleid van de stad Amsterdam om de groenpolen met elkaar te verbinden. Dit op een krachtige en duurzame wijze. Het groen dat we toevoegen binnen deze ontwikkeling wordt dan ook onderdeel van de groenstructuur van Amsterdam en dat is uniek.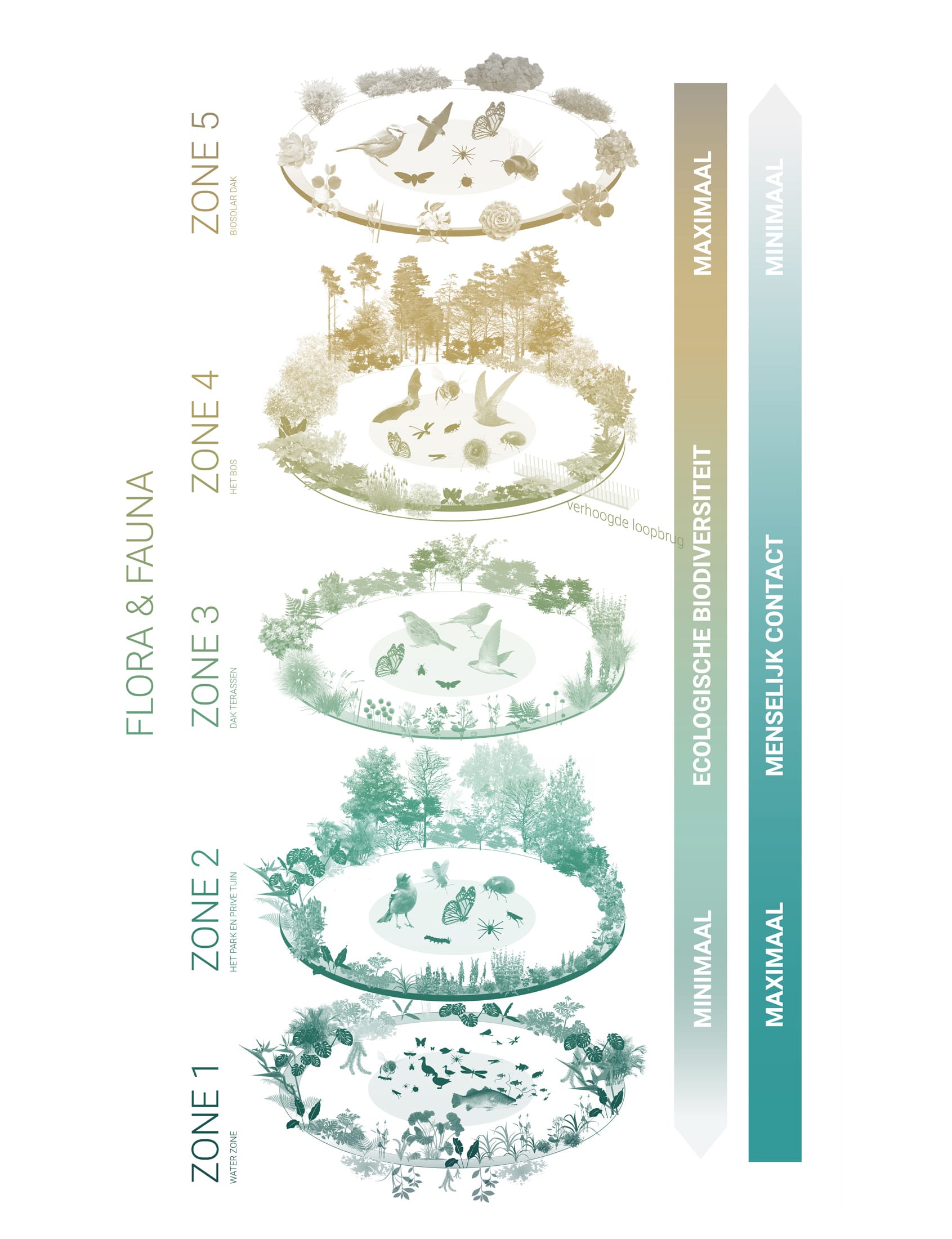 Gebruik, biodiversiteit en water vormen de drie hoofdthema's voor het landschappelijk ontwerp.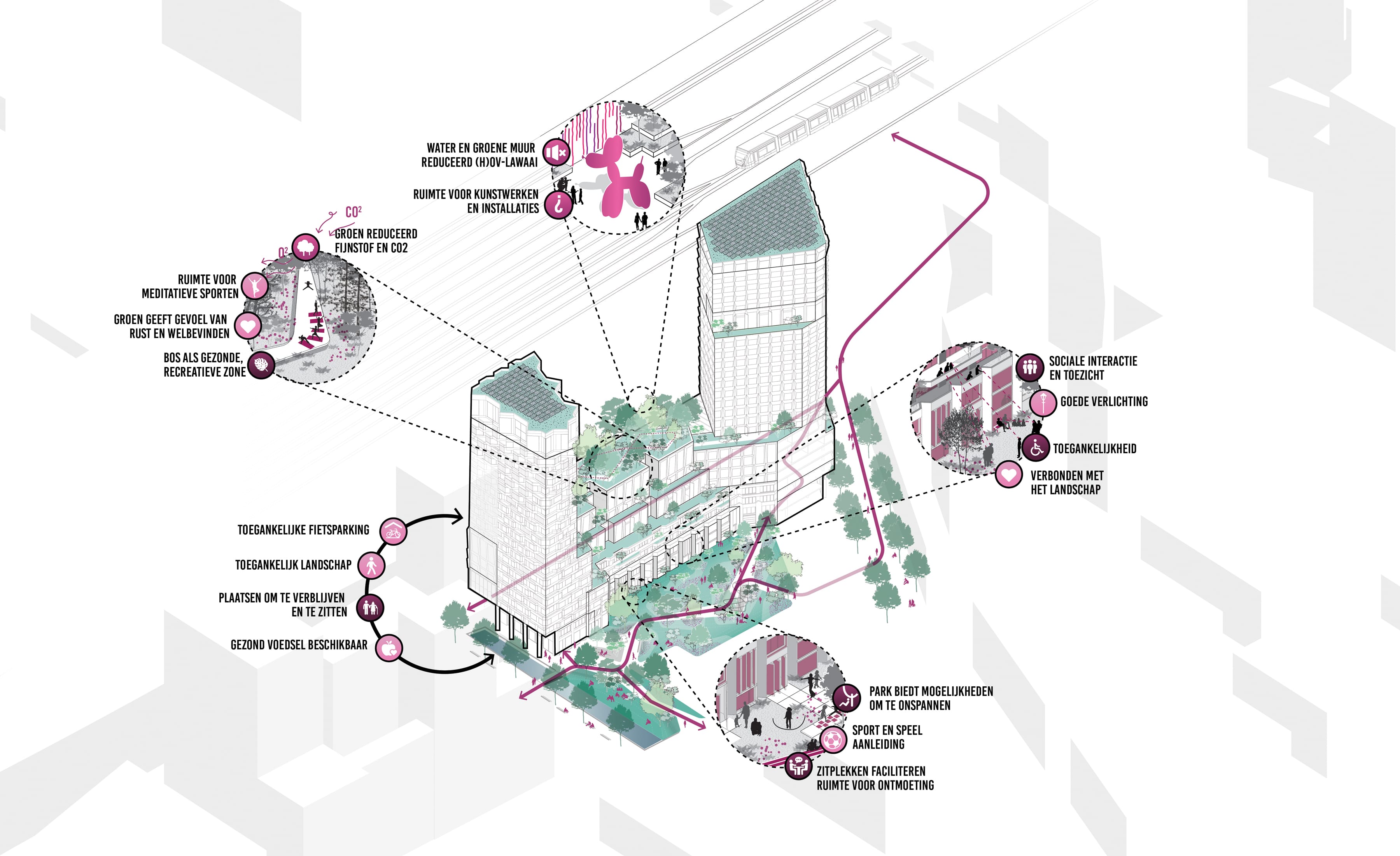 Energie en mobiliteit.
Het gebouw is volledig zelfvoorzienend. De energie wordt opgewekt door zonnepanelen aan de gevel en op het dak. Het hele gebouw is een bron van energie. Hoogwaardige energiestromen uit de ene toren voeden de andere waardoor er geen energie verloren gaat. De torens zijn energieneutraal. Het mobiliteitsplan zet daarom in op maximaal gebruik van openbaar vervoer, (elektrisch) fiets- en voet-verkeer en een parkeergarage die alleen toegankelijk is voor elektrische deelauto's.
Winnen als team
Het concept voor The Pulse is tot stand gekomen in samenwerking met VORM Ontwikkeling, MVSA Architects, VMX Architects, DELVA Landscape Architecture / Urbanism , Van Rossum Raadgevende Ingenieurs, Binder Groenprojecten, Buro StadsNatuur, W/E adviseurs, Van Toorenburg Installatieadvies, Klimaatgarant, CroonWolter&Dros, The Future Mobility Network, Buurauto, Bureau Bouwfysica, ...,staat creative agency, De Horecafabriek, Colliers, Eefje Voogd Makelaardij en Hallie &van Klooster Makelaardij.
Locatie

Amsterdam

Status

Winnend ontwerp richting bouwaanvraag

Opdrachtgever

VORM Ontwikkeling

Samen met

MVSA Architects, VMX Architects e.a.