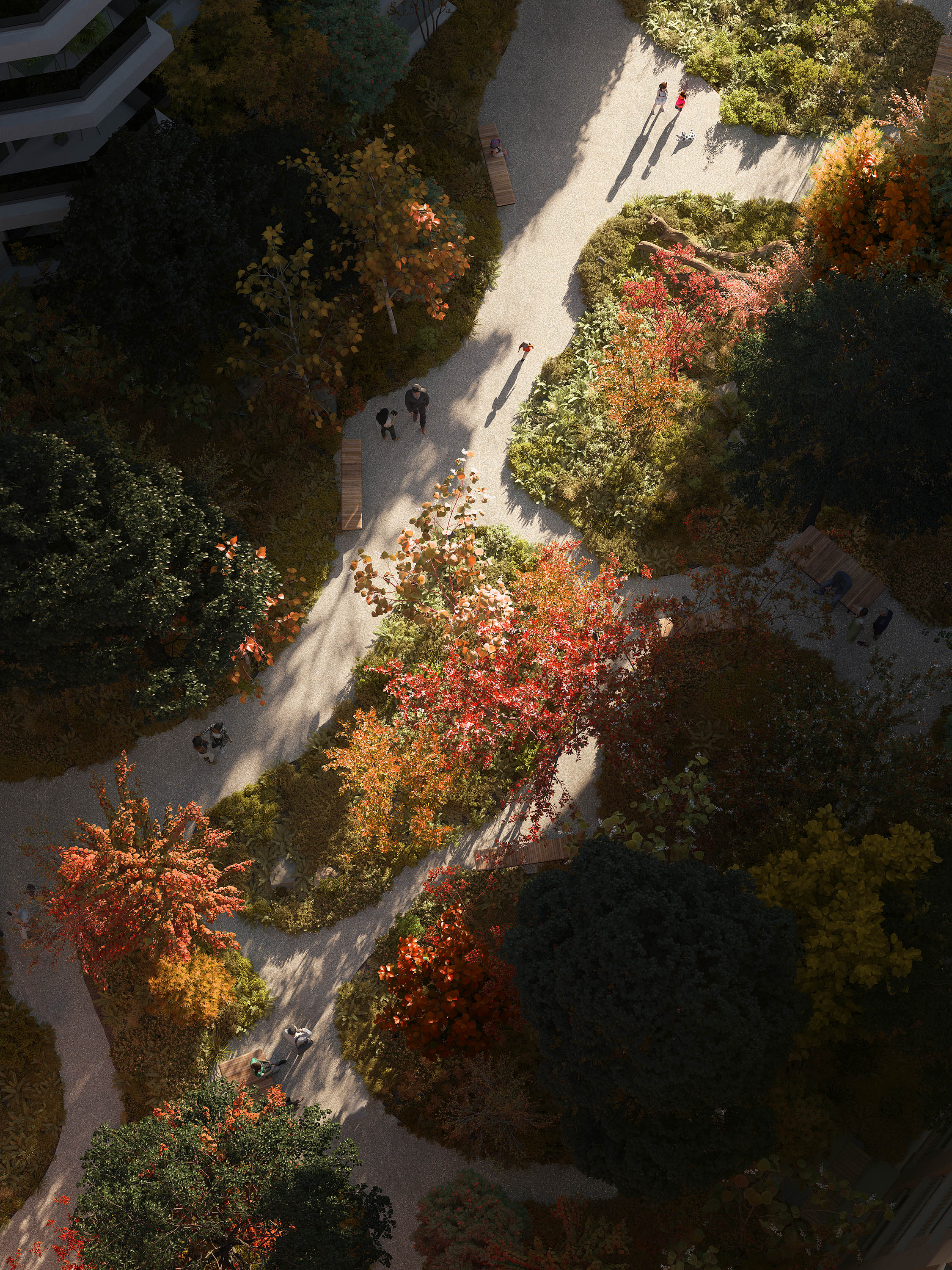 THIS. verandert het perspectief op binnenstedelijk wonen, met ongeëvenaarde uitzicht over het IJ en direct toegang tot het weelderig groen waterfront, een ware stedelijke oase. THIS. is de plek waar mensen kunnen werken en wonen, zonder ergens anders heen te hoeven.
THIS. presenteert een ensemble van een nieuw kantoorgebouw en vier woongebouwen aan het open water van het IJ, in een geprogrammeerd, natuurinclusief landschap. De gebouwen en het nieuwe groen komen zo in een ruime en spectaculaire omgeving te staan, met het bruisende centrum van Amsterdam op enkele minuten afstand.
THIS. is een nieuw woon- en werkgebied dat zich naadloos voegt in, en ambities waarmaakt uit het Raamwerk Buiksloterham, opgesteld door DELVA en de Gemeente Amsterdam.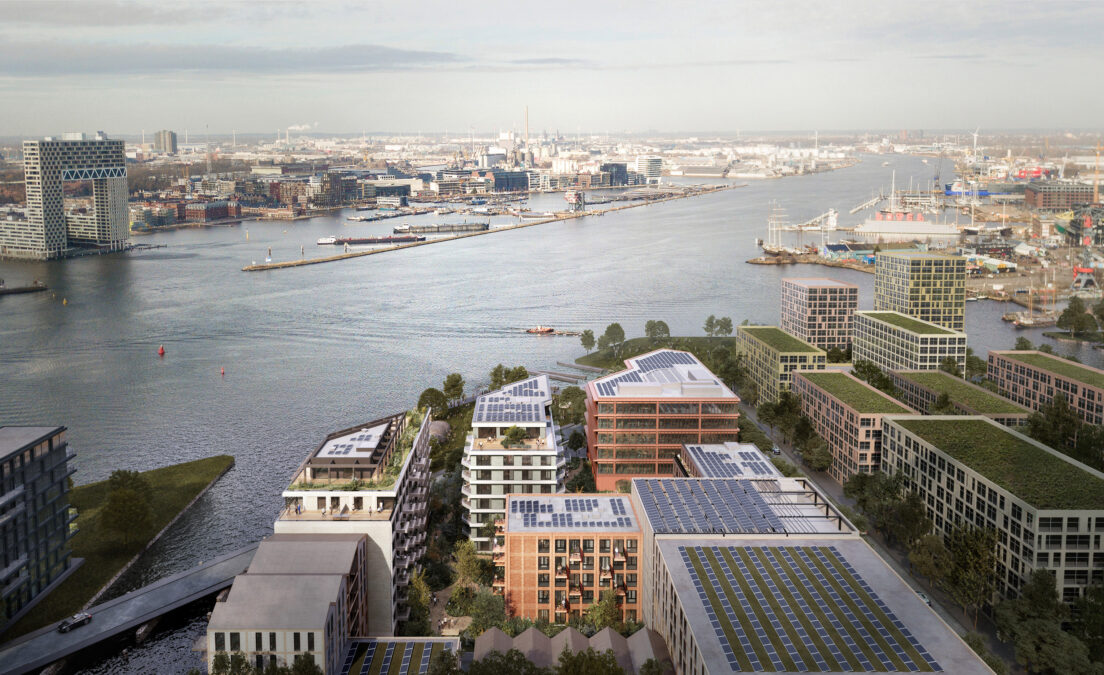 De meerwaarde van het landschapsontwerp is niet om een landschap te presenteren dat er natuurlijk uit ziet, maar het landschap zo te creëren dat de mensen die erin verblijven zich natuurlijk zullen voelen
– Steven Delva
The Hidden Garden
We hebben gekeken wat de locatie te bieden heeft. Een van de meest unieke kenmerken zijn de spectaculaire uitzichten. THIS. vroeg voor een open gevel en een groot dakterras met een sfeervolle openbare ruimte. Het dakterras maximaliseert de potentie van de plek en biedt ongeëvenaarde uitzicht over het IJ.
De woon- en kantoortuinen zijn met elkaar verbonden door The Hidden Garden. Deze verborgen tuin karakteriseert het project, waarmee THIS. de hoge, bruisende stadsenergie perfect combineert met de meer serene omgeving van Amsterdam-Noord. Naast het actief oeverpark aan het IJ creëren we rust en geborgenheid doormiddel van spectaculaire The Hidden Garden. Een speels netwerk van wandelpaden slingert tussen de bomen, siergrassen en vaste planten. Inheemse flora, bosbodembedekking en weelderige schaduwminnende planten zorgen voor seizoensgebonden beleving.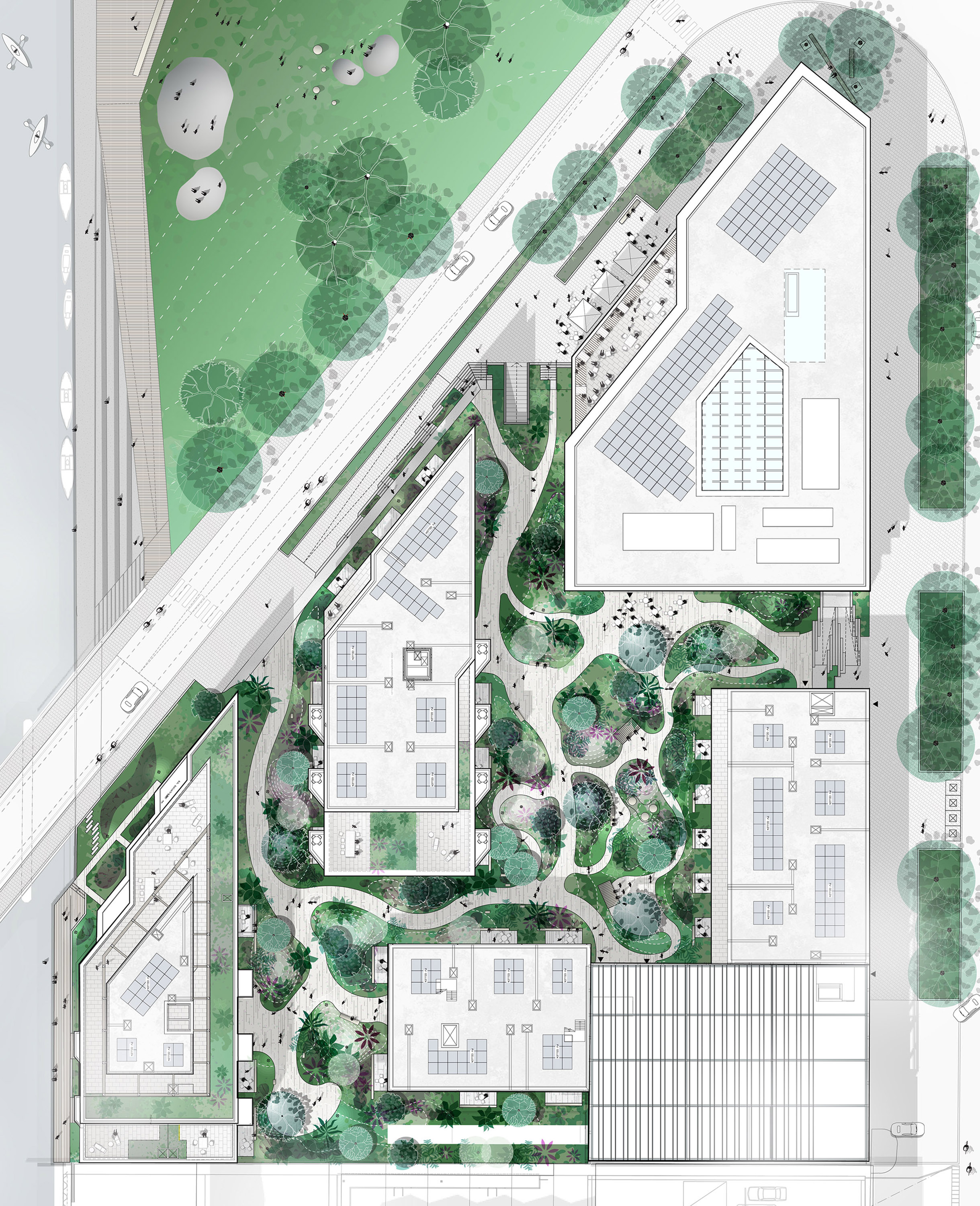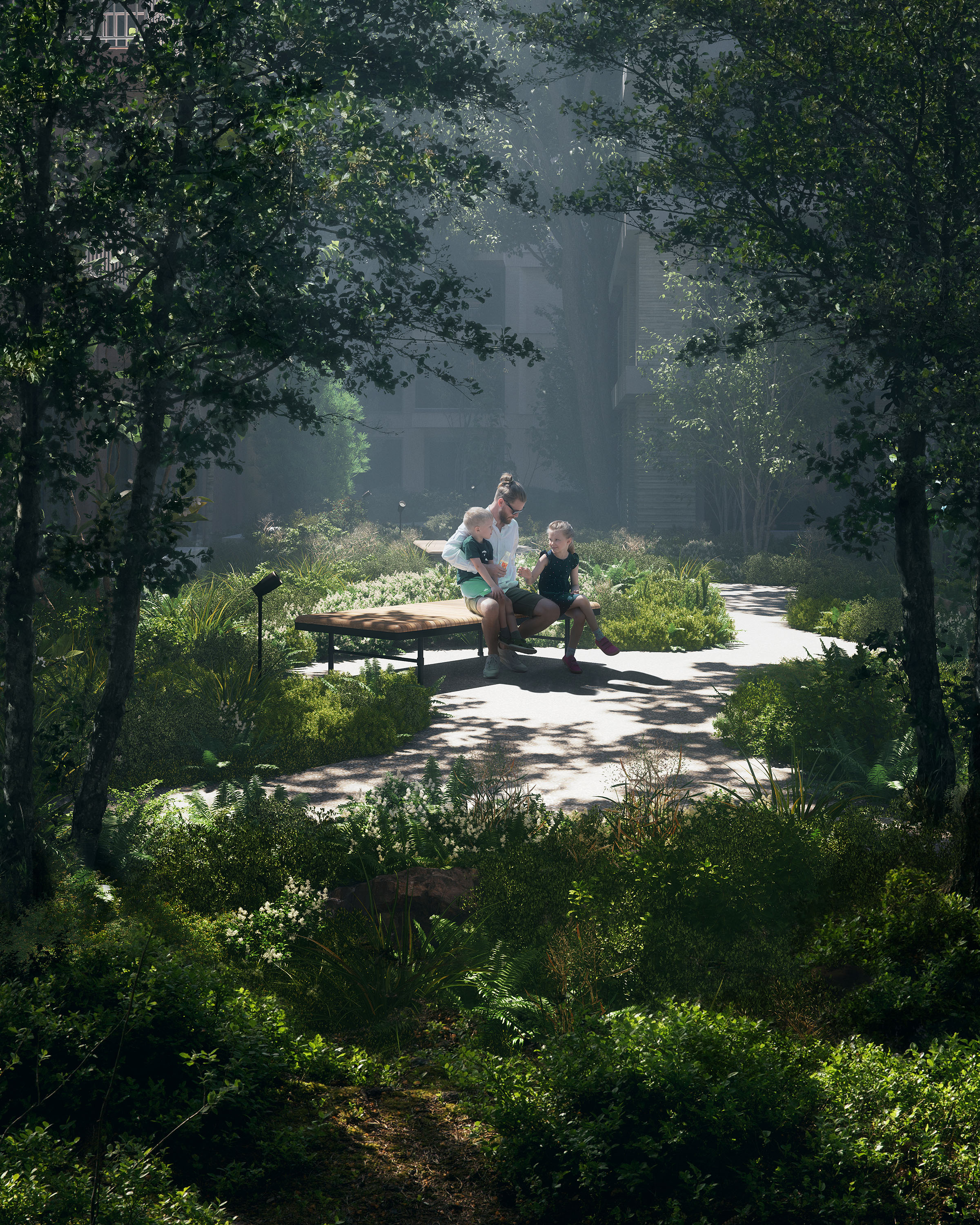 Door af te wisselen tussen meerstammige bomen, heesters, varens en grassen creëren we een spel van licht en schaduw. Het golvende oppervlak in de verborgen tuin zorgt voor een dynamische beleving van het landschap, en voor afwisselend interessante zichtlijnen en natuurlijke privacy. De binnentuin is voor jonge kinderen een spannend landschap om te ontdekken en in te spelen.
Waar de binnentuin een koele, schaduwrijke plek voor ontspanning en ontmoeting is, biedt het weidse IJpark aan het water open park een zonovergoten ruimte met een spectaculair uitzicht over het IJ en het Amsterdamse stadsbeeld. De grote open grasvlakte is voorzien van bomen die schaduw bieden en grote rotselementen, een knipoog naar de industriële historie van het gebied. De open opzet van het IJpark maakt een flexibele programmering gedurende de dag mogelijk. Bezoekers kunnen sporten in het park, ontspannen in het gras en via de trappen verkoeling zoeken bij de waterrand.
The Hidden Garden bevredigt de behoefte aan natuur midden in de stad
– Sander van den Bosch
Om tot rust te komen
THIS. laat zien hoe wonen en werken aan het water eruit hoort te zien. We hebben gebruik gemaakt van het dynamische uitzicht, gecreëerd door het constant veranderende waterlandschap, met het verkeer van veerboten, schepen en boten. Adembenemende luchten en zonsondergangen versterken dit. Openingen tussen het kantoor en de woongebouwen zorgen voor optimale oriëntatie op de zon en zorgen ervoor dat ze allemaal een fantastisch uitzicht hebben. The Hidden Garden schept ruimte en licht binnen het blok. Het groen en de kronkelende paden bieden een gevoel van intimiteit en rust in de stad.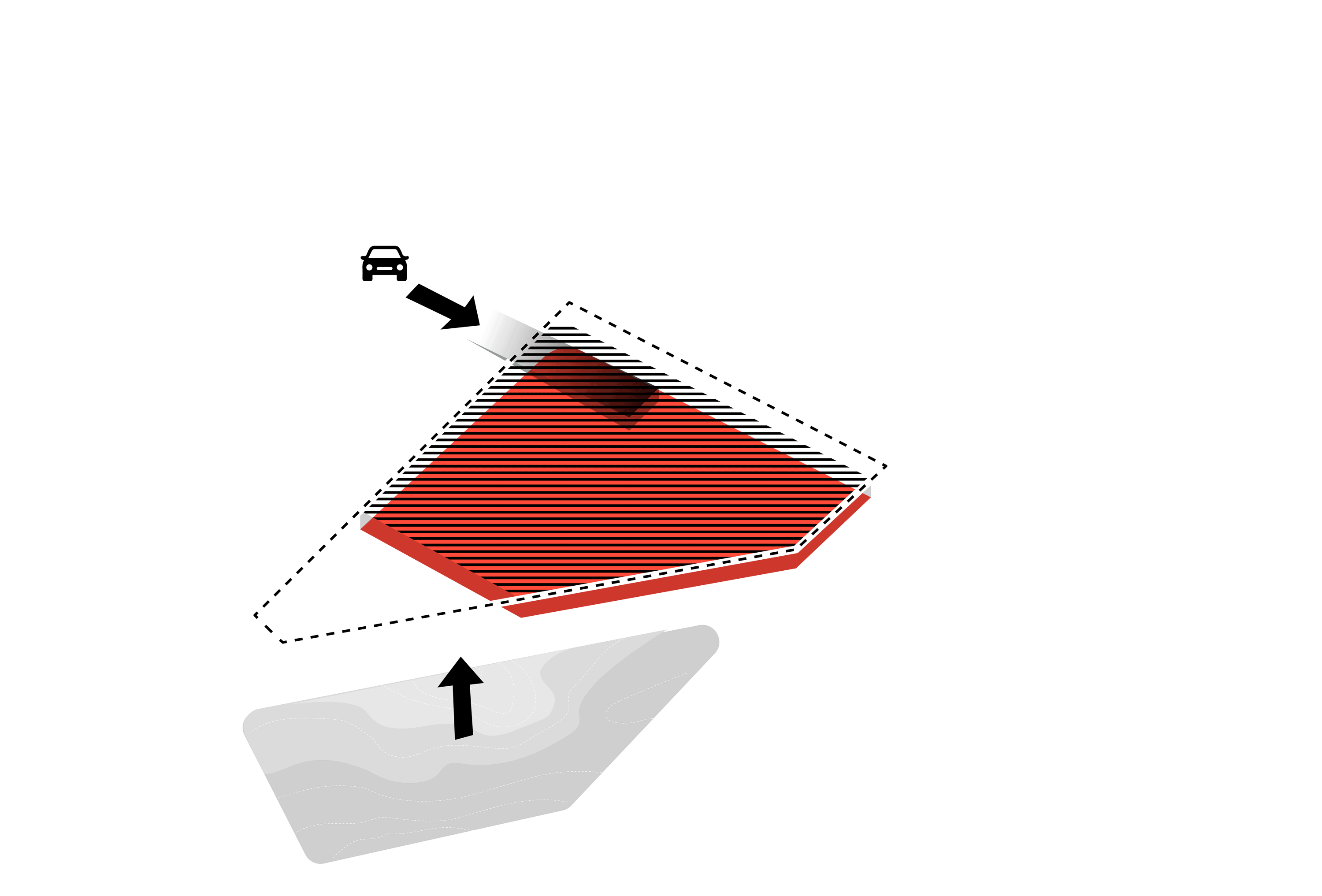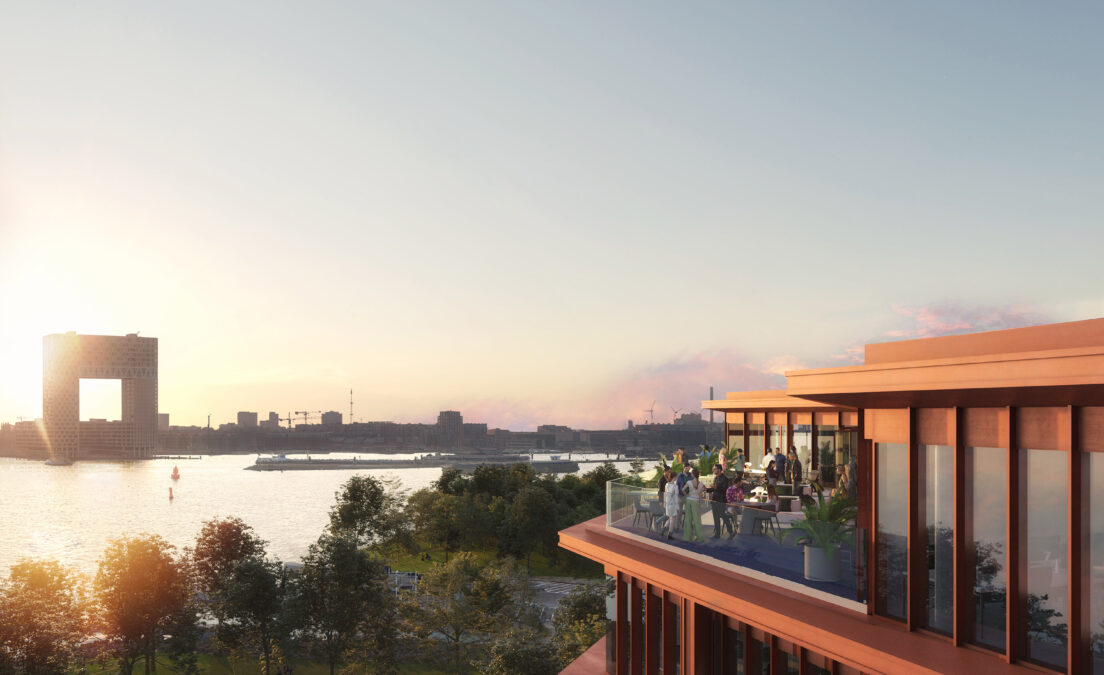 THIS. is een plek waar je je kunt verbinden met de natuur
– Rex van Beijsterveldt
Klein maar fijn ecosysteem
Met THIS. voegen we een nieuwe levendige plek toe aan Amsterdam-Noord. Uniek vanwege het uitzicht en faciliteiten zoals The Hidden Garden. De toename van thuiswerken als gevolg van Covid-19 leidde tot een groeiende behoefte aan werkomgevingen die interactie tussen mensen stimuleren en innovatie aanwakkeren. THIS. is een sociale hub die de perfecte balans tussen werk en privé biedt, tijdens het genieten van een panoramisch horizon, omgeven door water en vlakbij het stadscentrum. Wij willen een plek creëren om je thuis te voelen en tegelijkertijd de sociale en architectonische samenhang met de omgeving versterken.
THIS. is een samenwerking tussen RED Company, DW Property, Powerhouse Company, DELVA, Van Rossum Raadgevende Ingenieurs, DGMR, SmitsRinsma, Van Kessel, VolkerWessels, Van Losser Groep and Wessels Rijssen.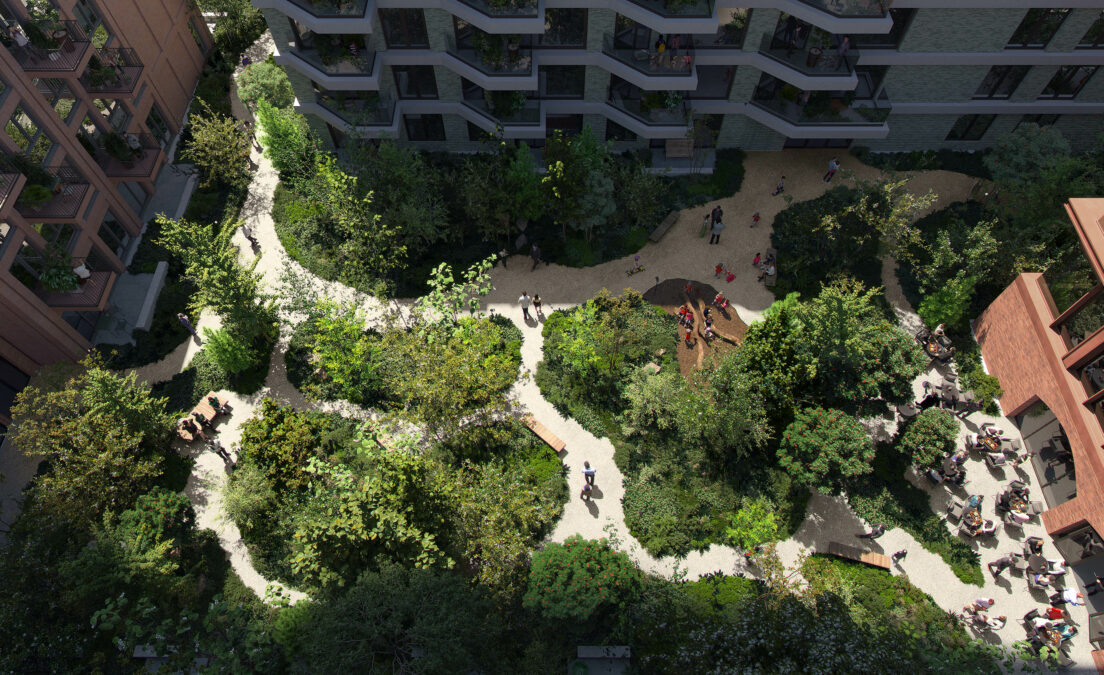 Locatie

Amsterdam-Noord

Status

Definitief ontwerp

Opdrachtgever

RED Company, DW Property

Samen met

Powerhouse Company, DELVA, Van Rossum Raadgevende Ingenieurs, DGMR, SmitsRinsma, Van Kessel, VolkerWessels, Van Losser Groep, Wessels Rijssen

Team

Team

Team